CUSTOMIZED MOBILE SALES ENABLMENT APPS POWERED BY SOLOFIRE
With SoloFire you can create your own custom sales solution to fit your company's needs. Envision what your mobile app looks like, how it should function, and we will make it a reality loaded with seamless functionality, robust security, and useful features!
SoloFire is a mobile sales enablement platform designed to seamlessly integrate with your current CRM and the sales and marketing tools used within your company. SoloFire offers you a way to easily manage and distribute your content while giving your sales and marketing teams actionable insights at the same time!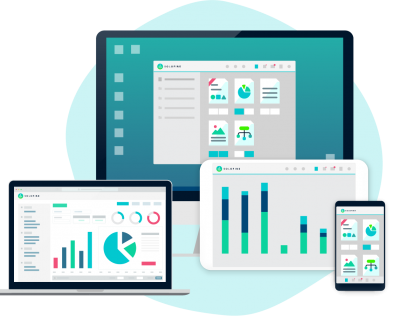 POWERFUL SALES CONTENT MANAGEMENT
Content fragmentation and version control cause sales and marketing teams to become frustrated and finger point at each other. When you upload and manage content with SoloFire these issues are non-existent, all your content is in one single location! With a user-friendly interface and searching capabilities, your sales reps are always prepared with up-to-date, compliant content hosted within your custom app. Marketing can upload, remove, lock, and update content as needed!
Documents, PDFs, Powerpoints, images, pricing sheets, interactive materials, 3D animations, demo reels, ROI and quoting tools, and other custom applications are just a few of the asset types that SoloFire allows your organization to leverage.
PREDICTIVE SELLING WITH 100% CONTENT VISIBILITY
Sales reps are able to present and share content via text and email straight from their app powered by SoloFire, and see how their prospects interact with it! With these metrics and an interactive timeline, your sales reps know how to position their follow up conversation and where to spend their time. An in-depth analytic platform lets your marketing team know what content is working, and what's not, so they can continue to create optimized content.
With complete visibility into content and reps, both teams are empowered to successfully do their jobs!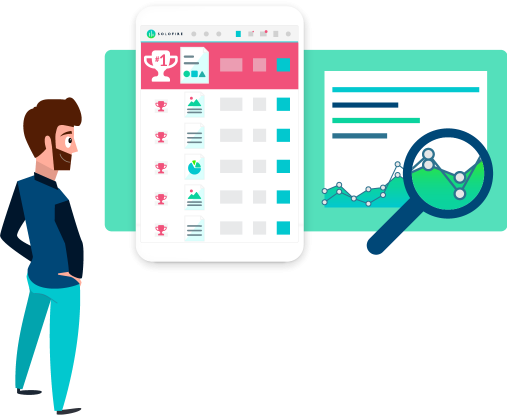 As more and more business operations are being done on mobile devices, having the right apps to assist your team is becoming more and more important. And the right apps won't do you any good if you don't have an efficient way to make sure the right people in your organization have access to them on all necessary devices.
The SoloFire Enterprise App Store enables you to distribute custom native iOS, Android, and Windows apps to your entire organization with just a single link! Your custom app is secure in your custom-branded Enterprise App Store, easily accessible on mobile devices, and can only be seen by those within your company.
SoloFire has built-in integration and support for major platforms, including SalesForce. We make sure that your integrations fit your mobile sales experience, not the other way around.